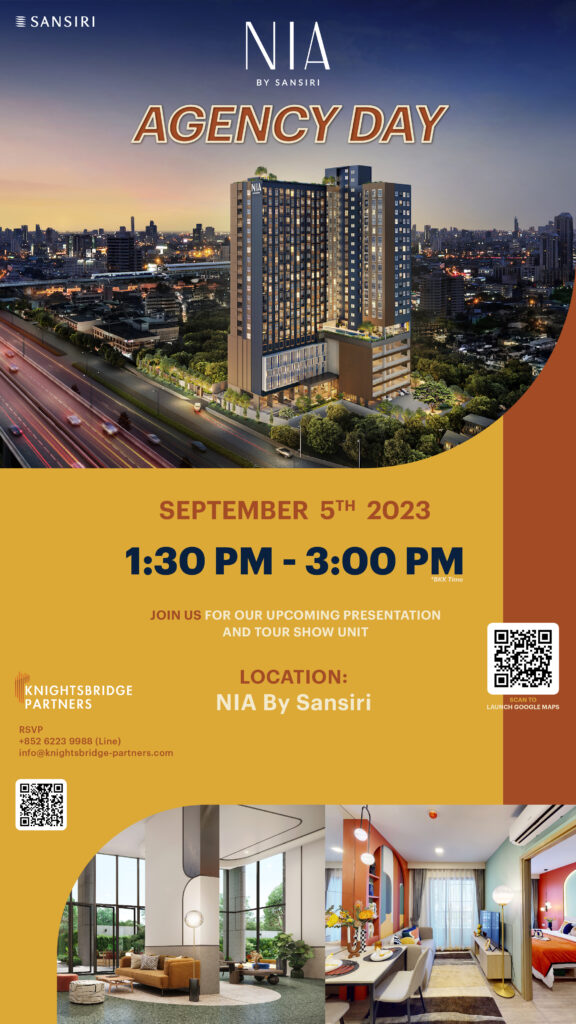 Sansiri Agency Day
NIA BY SANSIRI
September 5th 2023
Knightsbridge Partners would like to extend warm invitation to our agency partners to the Sansiri Agency Day at NIA by Sansiri on September 5th 2023. We shall introduce of the much-awaited exciting project NIA by Sansiri, a rare freehold condo project just off the T77 Community.
NIA by Sansiri is conveniently situated between Phra Khanong and On Nut BTS stations, granting residents seamless access to Bangkok's comprehensive transportation system via the BTS Sukhumvit line and expressway. This unparalleled location ensures that residents can effortlessly navigate the bustling city while still enjoying the tranquility of their serene abode making NIA by Sansiri an appealing investment opportunity for young professionals and ex-pats seeking excellent property prices and low living costs in one of the best places to live in Asia. Expected to be completed by September 2023, it presents an attractive investment opportunity with price starting from just THB 3,195,000.
We look forward to seeing you!
Agenda:
1:30PM: Welcome participants
2:00PM Introduce the project NIA by Sansiri
2:30PM: Q&A session & show unit tour
3:00PM: Conclusion
The event is free to join but RSVP is required.
1. If you are an agency, please contact us to join our Global Agency Network to offer this amazing project to your clients.
2. If you are a client, please contact your agent or if you do not already have an agent then let us know and we will assign your contact details to our agency partners.
Our team can be reached at +852 6223 9988/+86 139 1724 9015 (WhatsApp/Line/WeChat) or info@knightsbridge-partners.com for further assistance.