Sansiri Public Company Limited, Thailand's most trusted full-service property developer and no.1 Thailand's property with highest sales volume in international market, represented by Mrs. Praiya Bunnag (right), Chief Sales Officer, appoints Knightsbridge Partners, represented by Mr. Kingston Lai (left), Chief Executive Officer, as the master real-estate agent to sell "FLO by Sansiri" a high-rise condominium project, developed with the full confidence in the revival of the travel industry and the high demand from international buyers in Thailand's property market.
"FLO by Sansiri", the Company's first river-view condominium located within 3-mins drive to ICONSIAM
Thailand's unrivaled travel and shopping destination, features a design conveyed through the "Red Bloc" concept as inspired by the distinctive cultural characteristics of the area. "Full Function" with the neat and tidy floor plan, and the "loft-style" units with 4.8-metre-high ceiling making up only 20 percent of the project at approachable prices. The "complete amenities" include the "double rooftop facilities" — the common areas that open up to the breathtaking vista of the bend in the river and the city skyline without any other buildings blocking the view.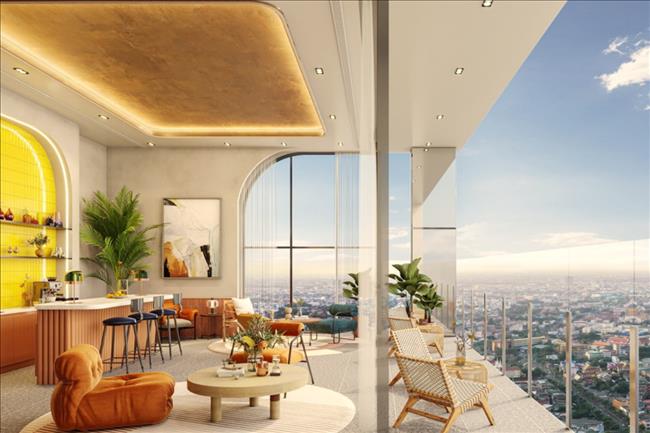 "Sansiri is Thailand's first real estate company that pioneer in international market which has highest sales volume in consecutive years, offering wide range product in all segments from premium to luxury. We foresee the positive sign of travel industry and the high demand from international buyers in Thailand's property market, therefore, we are pleased to appoint 'Knightsbridge Partners' as our master real-estate agent who are known for their strength and professionalism in selling overseas properties to sell 'FLO by SANSIRI' project.
Mr. Kingston Lai, CEO of Knightsbridge Partners, stated that "As a long-term partner of Sansiri we are pleased to be appointed as the master property agent for this project. The attractive pricing and strategic location of FLO by Sansiri which is near ICONSIAM and the Chao Phraya River offer tremendous investment upside potential for investors. We are committed to working closely with Sansiri and our global network of agents to offer this investment opportunity to foreign investors."
About Sansiri Public Company Limited:
Sansiri is Thailand's most trusted full-service real estate developer. With a workforce of over 4,000 employees, Sansiri has built more than 400 projects with over 5 million sq.m. throughout Thailand and a residential building in London during its 39-year history, all with a strong emphasis on design and livability. Sansiri provides comprehensive services that go beyond those of traditional developers: concierge services, property management, sales brokerage, and long-term resort rentals. Sansiri believes in constructing lives, not just buildings. Through its innovative products, after-sales, and concierge services, Sansiri offers its residents more than just a home; it presents them with a "way of life".
About Knightsbridge Partners:
Knightsbridge Partners is the exclusive Master Agent representing global developers (primarily from Thailand, Vietnam, Malaysia, Cambodia and United Kingdom) in the distribution of their real estate inventories to their network of agency partners. The company is headquartered in Hong Kong and founded by Mr. Kingston Lai. Prior to the founding of Knightsbridge Partners, Kingston was an Executive Director at Morgan Stanley Hong Kong where he oversaw institutional sales & distribution to financial institutions in Southeast Asia. He has been a seasoned investment banker for 12 years, has held similar roles at several other investment banks in London, Singapore, and most recently Hong Kong. Knightsbridge Partners and its strong team of former investment bankers challenge themselves to reinvent the ways real estate products are being packaged and marketed to investors. This has led to the success of the company in distributing more than 10,000 units of international residential properties over the past 10 years through its network of agencies around the world.