Sansiri Launches The Base Height-Chiang Mai to Penetrate Hong Kong Market Partnershiping with Knightsbridge Partners
Sansiri, the renowned Thai real estate developer, has recently made headlines with its successful launch of "The Base Height-Chiang Mai," a city condo located in the heart of Chiang Mai. The high-rise building has been developed to meet the soaring foreign demand for luxurious properties in Thailand. The development is expected to be sold out, with full foreign quota and total sales exceeding 800 million baht.
According to Praiya Bunnag, the Chief Executive of the International Sales and Business Development Department at Sansiri, the company has adopted a "Speed to Market" strategy to penetrate the foreign market and meet the pent-up demand from foreign buyers, which has accumulated after the past situation. With the highest sales in foreign markets, Sansiri has reinforced its position as the number one leading property brand in Thailand. The success of "The Base Height-Chiang Mai" comes on the heels of the FLO by Sansiri project, which generated sales of up to 430 million baht within just one month. With such impressive sales figures, it is clear that Sansiri's reputation for developing luxurious properties is continuing to grow both domestically and internationally. This latest venture into the Hong Kong market marks a significant step forward for Sansiri. The company's commitment to quality, innovation, and customer satisfaction has enabled it to establish itself as a leading developer in the region. As Sansiri continues to expand its reach in the global market, it is sure to attract even more foreign buyers who are looking for premium real estate investments.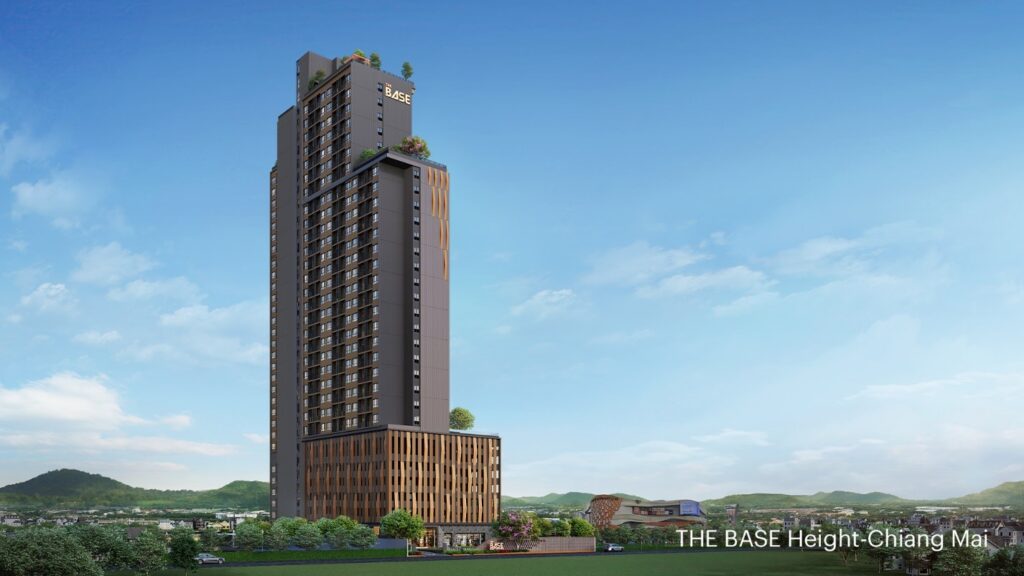 As Thailand welcomed an estimated 30 million tourists after reopening the country, Sansiri has continued to expand its market presence. In its first international roadshow of the year, Sansiri presented "The Base Height – Chiang Mai," a city condo and Chiang Mai's first high-rise building, located just 3 minutes away from Central Festival* in Hong Kong on March 11-12. The project is expected to receive positive feedback from three key factors. The first is the confidence and trust of Hong Kong and Chinese customers in the quality of the Sansiri brand. Secondly, the project's high-rise building is located in a prime location with significant potential. Finally, the Modern Lanna style design incorporates local culture to match the lifestyle of the new generation. The project aims to sell out its full foreign quota, with projected sales totaling more than 800 million baht.
Following the country's reopening earlier this year, the real estate market in Chiang Mai Province has become more active. This is due to several factors, including the influx of foreigners visiting Chiang Mai, which reached 5.46 million people, and a 90% increase in the number of flights in 2022. Additionally, the government's investment in transportation infrastructure, such as the construction of Chiang Mai International Airport 2 by 2025, is expected to support the expansion of the city and attract more tourists. These factors have led to a 35% growth in hotel occupancy, reaching 65% compared to the previous year. This has positively impacted the demand for real estate among foreigners who are looking for second homes in Thailand or seeking investment opportunities with better rental yields than in their own countries.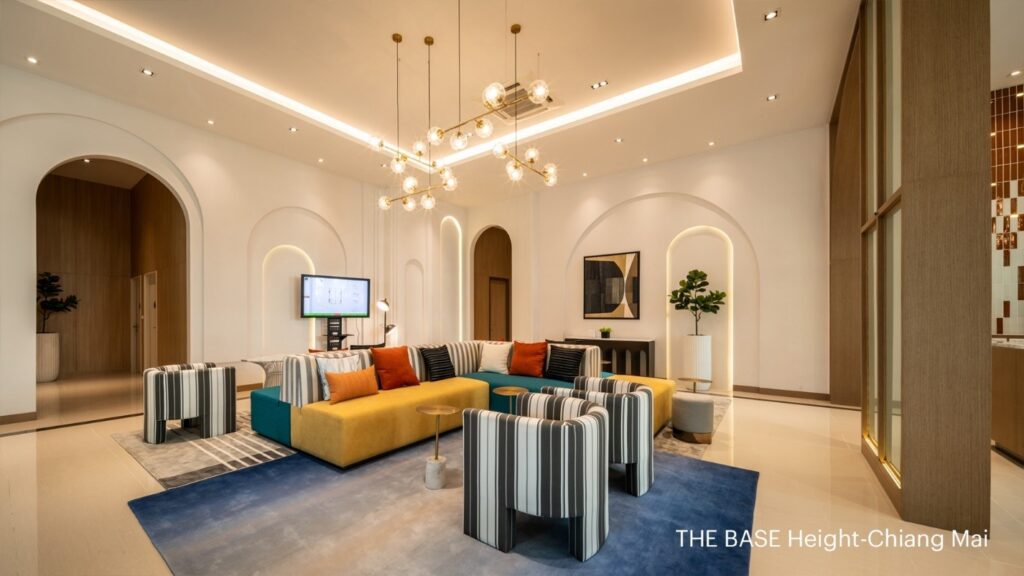 As a leader in the Chiang Mai real estate market, Sansiri has developed over 10 successful projects, including both condominiums and detached houses. These projects have attracted overwhelming sales from both Thai people and foreigners. The top three projects with the highest sales among foreigners are Dcondo Rin, Dcondo Pink, and Dcondo Nim, with 50% of Chinese customers, 5% from Hong Kong, 2% from Taiwan, and 43% from Europe and other Asian countries.
"The success factor is derived from strength, namely competitive strategies that leverage the strengths of Sansiri's after-sales service, which includes worry-free supervision provided by Plus Property that manages the project from the time of customer move-in, as well as renting and reselling services. Additionally, sales teams and potential agencies partners employ new forms of sales, including virtual and live streaming, resulting in good returns on investment. Knightsbridge Partners will sell this project as a Master Agent with a strong network of agency network worldwide. This will play an important role in driving Sansiri to achieve its sales target of 12,000 million baht." said Ms. Praiya. 
Mr. Kingston Lai, CEO of Knightsbridge Partners (HK), a major real estate brokerage company from Hong Kong, said, " We see opportunities from foreigners, especially Chinese and Hong Kong nationals who are looking for residences outside their country for investment purposes, as well as a second home in Thailand, given the attractive real estate prices in Chiang Mai, which is a popular province for foreigners, particularly those from China and Hong Kong. Moreover, the Sansiri brand and its after-sales service are trusted and accepted by foreigners, resulting in a rental rate of 7%, which is higher than in their own countries. Additionally, the project is strategically located in the heart of the city, near Central Department Store."
THE BASE Height-Chiang Mai is the first high-rise condominium project from Sansiri in Chiang Mai. It stands 31 floors tall and features 630 residential units comprising of 1 and 2 bedroom options. The 1 bedroom units range from 29.25 to 46.00 sq m, while the 2 bedroom units range from 53.50 to 56.50 sq.m. The project is valued at 1,900 million baht and is located on Kaew Nawarat Road, just 3 minutes away from Central Festival. It is surrounded by various facilities such as Big C Extra Shop Chiang Mai 2, Theppanya Hospital, McCormick Hospital, Intermed Hospital, and Bangkok Hospital Chiang Mai, making it the best location to reside in.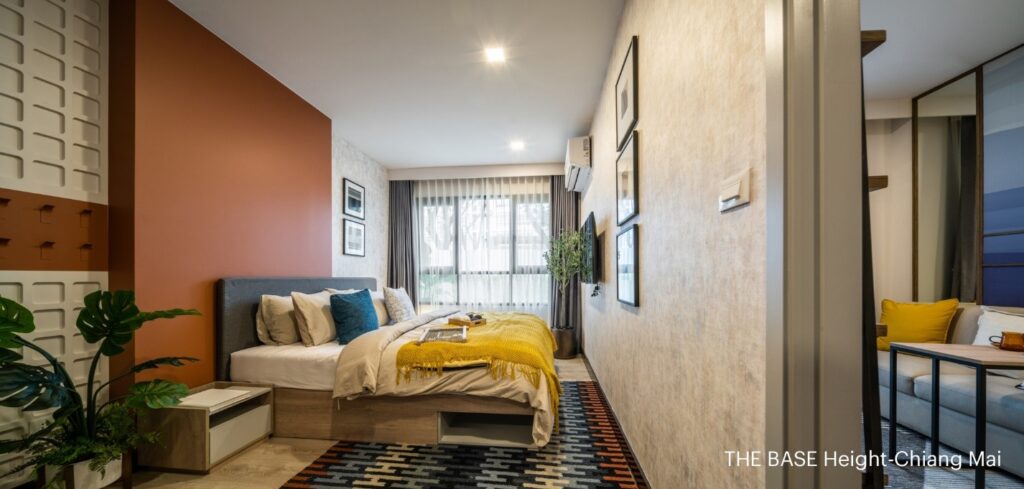 This new residential project boasts proximity to Chiang Mai's leading educational institutions, including Prince Royal's College and Chiang Mai International School (CMIS). Its strategic location not only facilitates travel in and out of the city but also allows for easy access to neighboring provinces such as Chiang Rai, Lamphun, and Lampang. The development is tailored to cater to the diverse needs of residents and investors alike, with prices starting at 2.39 million baht per unit, averaging 84,000 baht/sq.m. and offering an average rental yield of 6% and capital gain ratio as high as 10%. The project follows the 'UPLIFT MY LIFE…Full of life in a new angle' concept, featuring a 'Modern Lanna' design that seamlessly blends local culture with the contemporary lifestyle of the new generation. The interior spaces are adorned with vivid colors to promote a lively ambiance while maintaining a subtle undertone with the building's gray exterior, seamlessly integrated with Chiang Mai's context. The development also offers a range of shared amenities covering 2,000 sq.m., including a Sky Garden with a panoramic 360-degree view of Doi Suthep, a Rooftop Theater, a unique venue for watching movies under the stars, and a Co-Working Lounge for working in a relaxed atmosphere. Not to mention, the after-sales care and services provided by Sansiri.